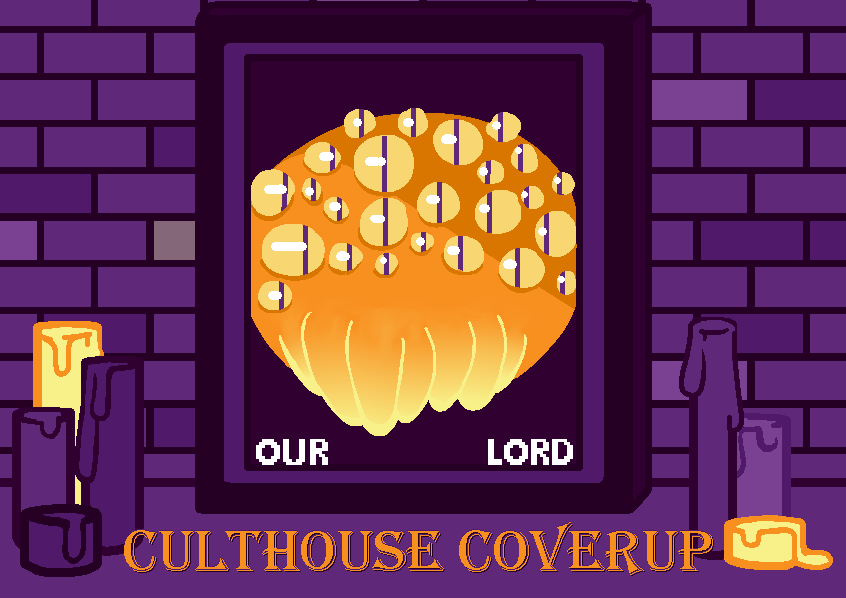 Culthouse Coverup
A downloadable game for Windows, macOS, and Linux

Welcome acolyte,
The non-believing authorities are on to the track of the church of Y͈͜ơg͡-͚͍͟S̖̥̜̞̫̤a͡t̰͓̩͕̲h̖̀a͍̰̲̥̻̤t̯͉͖̱̳͞h̬͈, and it's your duty to clean up the Congregation. You must find all the relics that the non-believers would use against us and conceal them. Only then, can you leave, the believers are in your hand.

Inspired by classic point and click adventure games and ms paint adventures, venture around the household of Bill and conceal the cult's activities.

Featuring:

Interactive Environments.
Dynamic User Interface.
Custom 2d illustrations.
Multiple item puzzles that span the household.
Made with Love2D, using the hump, suit, and rxi/classic libraries.

Programming, concept : scottyscoot https://twitter.com/UniScott
Art, concept: lamespacetrash https://twitter.com/lamespacetrash
Sound Effects : https://opengameart.org/content/512-sound-effects-8-bit-style
Font: https://fontstruct.com/fontstructions/show/675134/fontstuck_2


Happy Halloween!

Install instructions
The Windows.exe is included in the zip file.
The LOVE file is used with the LOVE2D program, which is multiplatform. So it should also work for Mac and Linux. Not Tested though.